You just graduated from real estate school. What seemed so clear and easy to implement in class just a few weeks ago suddenly isn't so simple. As a newbie to the real estate game, you've no doubt pinpointed the competition and know all of their stats—or at least you should have by now. It's in your best interest to learn from top agents in the business as you forge your own path to success in the industry.
But how can you compete against years of experience, high sales volume, and overall dominance in the market? How can you edge the competition while positioning yourself as an expert in your neighborhood? How can you use your knowledge of trends in the digital landscape while incorporating tried and true traditional marketing practices?
Three words: Listing Power Tools.
Listing Power Tools is the hot off the press single-property listing program that realtors everywhere are talking about. What matters most in securing listings, which leads to more sales, is making sellers feel confident that you can effectively market and sell their home for the most value in the shortest amount of time.
As a new realtor vying for the same listings that other, more experienced realtors will be competing for, it's imperative that you approach your listing presentation with preparation, confidence, and a "wow" factor. The number one reason sellers hire realtors is not because they have access to the MLS or because they've sold an outstanding number of homes: it's for marketing. Regardless of your level of experience, you can now not only compete with industry powerhouses, but win, by using the complete Listing Power Tools package that is revolutionizing real estate marketing.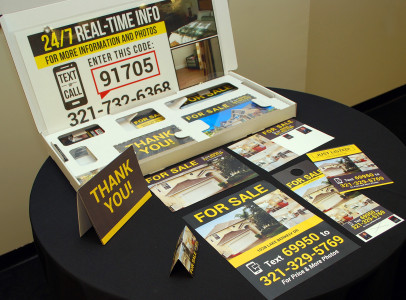 LPT is comprehensive
What does it take to properly market a home? Some might say traditional marketing. Others might say the newest tools in the industry outweigh old school methods. The answer is that a complete arsenal of marketing tactics and strategies is needed to adequately market a home.
Marketing your listing correctly has a two-fold purpose. The first is to attract buyers. With LPT, you have a complete kit of door hangers, mailers, business cards, and sign riders that effectively showcases your client's property, which will speak volumes at your listing presentation. The second objective to marketing your property the right way is to generate more leads and drum up more business for yourself.
With the digital features available through LPT, interested buyers can text a unique code generated by the app. This will keep your customers from getting sidetracked onto (and possibly hijacked by) big sites like Zillow or Trulia, or going through a Google search, where they could get passed along to another real estate agent. Instead, potential customers will text a code to your unique phone number and land on a custom, branded page showcasing your listing, where they can enter their information and be directly connected to you. The custom text code and unique phone number means you'll capture all of your own leads at the yard sign.
LPT is cost-effective
As a new realtor, your budget may be more limited in terms of what you can afford to spend marketing each of the listings you're hoping to secure. The low cost and high value of Listing Power Tools ensures you can aggressively compete in listing presentations by showing potential clients just how committed you are to marketing and selling their home. Whether you want to market each individual property with LPT or save your marketing budget for the biggest ticket homes you're interested in selling, there are tons of options that will allow you to edge out the more experienced competition.
LPT is convenient
If you were to hand-create, order, and print all of the pieces that come with LPT yourself, not only would you spend hundreds of dollars marketing each listing, but you'd also have to endure several trips to your local print shop—and that's IF they got all of your specs right the first time around. By logging into the LPT app, you can create, order, and proof your materials online, and have your custom marketing materials delivered to your doorstep. Line up your LPT individual marketing materials alongside your listing presentation schedule and watch yourself become the competition to beat in town.
Ultimately, LPT allows you to control the flow of information about your listing through the entire sales funnel, from listing presentation to the sale of your client's home. No other single real estate marketing program available to date is as customizable, convenient, cost-effective, or comprehensive. Don't lose the sale at the listing. Rise above the competition and power up your listing presentation with LPT.