When Google+ (Plus)  first arrived on the scene a few years ago, there were many opinions regarding whether we "needed" another social media platform. I had lots of calls and inquiries from people wanting to know if they should get on board. Personally I thought it was an odd question. So my response was short, and direct. Here it is.... "Why would you consider NOT embracing this platform? It's Google for goodness sake! You know. GOOGLE. As in SEARCH ENGINE KING OF THE WORLD?
Confession. I am a Google girl. So it wasn't difficult for me to jump on the Google+ bandwagon. A lot of business owners have neglected Google+ and I think that's a big mistake. Earlier this year there was speculation that Google+ would be going away as the company announced that it would separate it from some of its other products. But it wasn't the last stop on the train for Google+. Google is still investing in the platform which means they see it as valuable. At its core Google is a "dot connector." They want to connect you with your customer.
A few reasons why you should be on Google+:
You are already creating great content. Don't you want to share it in all the most popular places? Google+ ranks number five on the most popular social networking sites
Everything you post on G+ is indexed on Google. GOO.GLE. Can you say S E O? Would be more visitors to your website be a good thing?
You can join and create communities using your profile or business page. Networking - networking - networking. Without leaving your desk.
You can follow profiles or pages by adding them to your profile or page circles. It's the easiest way to keep up with the experts in your field and see what they are saying that will help you grow your business.
Put your business on the map. Literally. If you list your business address clearly, your physical location will automatically show up when people search for your area of expertise using Google Maps. Be sure to pick the best category.
Reviews. You may have a page on your website where you display reviews and that's great. We all feel better hearing from those whom have gone before us and that's what makes reviews work. Did you know that when your have your customers review you on Google that the reviews show up in search results and help you stand out?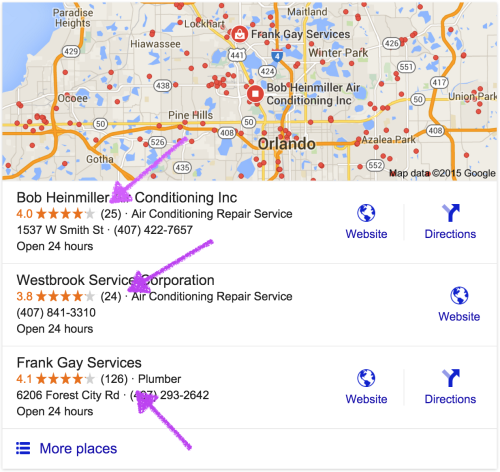 Google Hangouts, where you can connect with your Google contacts via video calls, phone calls or text chats. A very cool thing. Have meetings, do interviews, provide training, and so much more. I have an author client who uses Hangouts to participate with the book clubs that are reading his books.  His fans think it's groovy when they have an audience with the author.
I know the last thing you need is another social media account to manage, but I wouldn't waste my time, or yours if I didn't the investment would be worth it. You can see the pluses for yourself, right?