Estativize Co-Founder and COO, Jessica Toukatly joined Robert Palmer the president of RP Funding, a Central Florida-based mortgage lender, to report exclusively on their first home mortgage loan closed under the new TRID regulations. The historic closing documents were signed on Friday, October 16, 2015 in Boca Raton, Florida. Read all the details below:
President of RP Funding, Robert Palmer is not afraid to be different and stand out from the crowd, that is evident at first glance. When we meet, Palmer is wearing a three piece suit with Italian made, blue crocodile shoes. The shoes are appropriate for the day, special shoes for a special occasion.
RP Funding Celebrates
RP Funding's team is celebrating one of the nation's first home loans to close since new procedures—the TILA (Truth in Lending ACT) RESPA (Real Estate Settlement Procedures ACT) Integrated Disclosure, also known as TRID or "Know Before You Owe"—went into effect on October 3, 2015. Home mortgage document procedures have been in place since 1976, but have never encountered such significant changes to timeframes and forms until now. TRID closing disclosures are a preventative measure against financial and real estate crises, like the crash in 2008, mandated by the Dodd-Frank Wall Street Reform ACT.
What is TRID?
The procedure under TRID is based on the origination (the date of a mortgage application) rather than the closing date; the HUD-1 Settlement Statement is no longer a required form and the new forms replace the TILA (Truth-in-Lending Act), HUD-1, and include a new closing disclosure. Real estate and mortgage industry bloggers, commenters, and word-of-mouth chatter buzzed about the common myth TRID would significantly increase closing times. In an interview with CNBC on October 5, Matt Weaver, vice president of mortgage sales at Finance of America Mortgage, a Blackstone Company, says, "…he does expect to see delays, especially at the big banks, where closing time could stretch out to 60 or 75 days."
The RP Funding team closed their first loan in only ten days.
---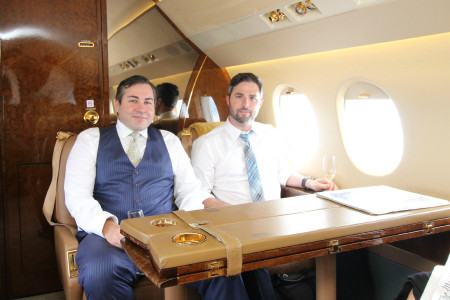 Palmer commemorates the event by flying via private jet from his headquarters in Maitland, Florida (just north of Orlando) to Boca Raton, Florida to attend the closing in person. He is joined by key members of RP Funding's staff including, account executive, Steve Dickmann; attorney, Luis Fermin; President of RP Digital, Phillip Gagnon; Director of Public Relations for The Robert Palmer Companies, Russ Abrams; and realtor, friend, and photographer/videographer for the day, Matt Hodge; as well as multimedia specialist and writer for www.realestation.net, Annette Torres, covering this story with me.
Palmer entertains his audience with business philosophy and reflections on how he came into his position, the 35-year old CEO of a now history-making company in less than a decade's time. Palmer was raised in Lakeland, Florida by a single mother who worked in the mortgage industry. He grew up observing the business around him and cut his teeth there while still in his teens. By his early twenties, he was Senior Vice President of a now-extinct mortgage company before risking everything he had to found RP Funding at the height of the market crash in 2008. The company began with just six employees and now has hundreds. RP Funding is currently experiencing a period of rapid growth, expanding the office space from 12,000 square feet to 60,000 square feet in the past 18 months. Palmer opened both an operations center in Jacksonville, Florida and an office in his hometown of Lakeland within the past six months. How did he do it? Palmer explains, "Other companies, their sales people are the lifeblood of their business; for us, the customer is the lifeblood of this company."
His customers notice. For example, take a look at the family we meet upon our arrival in Boca Raton.
A Home Buyer in a Bind
When buyer James Albritton began to consider retirement, he looked to Boca Raton due to the golfing and offshore fishing opportunities the community offered. He wanted to move his family, including his daughter Angelica Mattson, her husband, and their young son Cameron, to the Atlantic Coast to live with him and his wife. The couple plans to relocate permanently to the house in Boca to spend their golden years surrounded by family, the sunshine, and saltwater. Putting these plans into action proved easier said than done as the family began working with lenders to secure financing for the family's home in the beginning of the summer.
Albritton had anticipated paying around 20 to 25 percent down and was obviously frustrated when one lender came back requesting he pay 50 percent. Fifty percent? he thought. Might as well liquidate some assets and pay cash for the whole house. That situation showed the buyers this was not the right lender for them, but they were running out of time.
Albritton describes their timing as a "very bad, strong deadline." If the family didn't move out of their existing home, their rent would go up $300 per month. Then their landlord found a new tenant for their place, forcing them to move out by month's end. If they couldn't close in time, they were faced with packing up everything they owned, moving it all to storage, and living out of suitcases at an extended stay. The Mattsons needed to avoid such displacement, especially with a young son in tow.
Working with initial lenders proved unsuccessful and Albritton became discouraged by poor customer service and communication. As the summer days turned to autumn, the family's financing was still not secured. Time was running out and it was costing him. The agreement with the home seller included a penalty for extending the closing date. So in addition to an increase in rent from their landlord, they owed the home seller $100 per day. They needed a solution and fast.
RP Funding to the Rescue
Albritton finally sought help from RP Funding, a brand he was familiar with as a casual listener of Palmer's radio show, Saving Thousands with Robert Palmer in Valrico, Florida. When the RP Funding team told the family they could close on the house in just 10 days with no lender fees, Albritton was skeptical.
His doubt is understandable considering the mortgage industry is currently experiencing some of the biggest changes to take place nearly 40 years. The team at RP Funding swept every doubt from Albritton's mind while squashing industry rumors of TRID's longer closing times.
In fact, for Albritton's home mortgage, the timeline went as follows: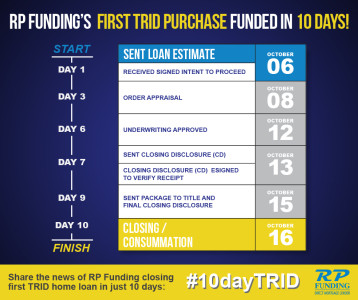 ---
Customer Satisfaction
Witnessing the official signing of the closing documents was an experience as such enthusiastic customers are a rarity. Mattson expresses how impressed she is with RP Funding, "I'm seriously just shocked with the customer service. And no lender fees?!"
Albritton describes the ease of working with RP Funding's team, "I called and was able to talk to the team; they told me what I needed. I received a list (of what I needed), checked off the list, and that was it. I only had to ask one time." He advises Palmer, "Don't change what you're doing!"
Even more unusual than such happy customers is the notary, Rick Morales. Unfamiliar with the changes under TRID, Morales exclaims, "I was going to call the title company to say pages were missing!"
"Well, actually, I own a title company," quips Palmer. With a smile, he explains the new process.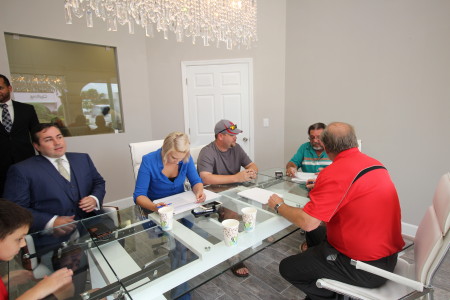 Once the forms are signed and notarized, the buyer and the business leader seal the deal with a handshake. Palmer beams as he declares, "This is so awesome. This is so good."
All in attendance raise a glass of champagne to celebrate the historic moment and I hear clinks of glasses as murmurs of "ten days" sneak out of smiling faces.
"Ten days," says Albritton, "They made a believer out of me!"
As we prepare to leave the nondescript, Spanish-style office building where the documents were signed, Mattson comments on Palmer's style, "I like your shoes!" Robert Palmer isn't afraid to be different or stand out from the crowd. His growing number of satisfied customers are discovering he is a businessman with a vision unlike the rest. He is disrupting the mortgage industry, exceeding customers' expectations, and delivering historic results; Palmer stands out, from his head for business all the way down to his blue shoes.
---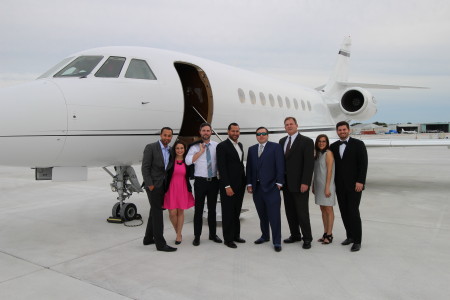 On the flight home to Central Florida, ties are loosened and suit jackets are hung up or tucked away. The day's work is done and the crowd is all smiles. As we sip champagne and delve into the on-flight snacks, our flight attendant joins in the conversation and asks what we're celebrating. Making small talk, she and Palmer discover they are both originally from Lakeland. His face lights up with pride as only a "what a small world" connection can do. Private planes, Italian shoes, and industry leading business transactions aside, Palmer is impressively grounded, personable, and proudly a small-town guy. No matter how high his business takes him, his feet are firmly planted on the ground.